Because of the differing needs of each student, every teacher,
especially your homeroom teacher, and office staffs are here to give you their full supports. Whether it's a university,
vocational college or working in Japan, we provide specific and accurate advices.
Main Further Education for the Graduates
Graduate School:
Osaka University of Foreign Studies, Osaka City University, Osaka University,
Kyoto University, Ritsumeikan University, Kansai University, Kobe University,
Kyushu University, Ibaraki University 
University:
Kyoto University, Osaka University, Wakayama University, Mie University, Osaka University of Education, Nara University of Education, Osaka City University, University of Osaka Prefecture, Osaka Women's University, Kyoto Prefectural University, DoshishaUniversity, Kwansei Gakuin University, Kansai University, Ritsumeikan University, St. Adnrew's University, Osaka Sangyo University, Otemon Gakuin University, Hannan University, Tezukayama University, Ohtani Women's University, Osaka University of Arts, Kinki University, Poole Gakuin University, Nagoya University of Arts, Kyoto Seika University, Kyoto Saagyo University, Ryukoku University, Osaka University of Tourism, Waseda University, Keio University
Vocational College:
Kansai College of Business and Languages, Osaka Mode Gakuen, Trajal Hospitality & Tourism College, Ueda College of Fashion, Osaka School of Music, Osaka School of Music, Tsuji Culinary Institute, Osaka College of Foreign Languages & International Business, CAT Music College, Nihon Computer Professional Training College
Points for making your future dreams a reality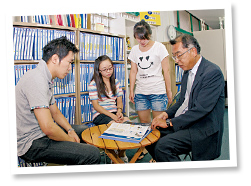 1.Strong connections with universities and vocational colleges
You are able to take the special entrance examination of other departments at Kansai College of Business and Languages, other vocational schools and universities mainly in Kansai area on our recommendation.
2.Mock interview with teachers
Before the university entrance examination, mock interviews are provided at student request. You will become familiar with often asked questions and how to answer them.
3.Academic Guidance
In preparation for your future academic plans, we hold guidance sessions on a reqular basis. We explain the process for entrance examinations and what needs to be done both before and after you go to your new school.


Mr.ANDEAS MICHAEL SIHOMBING/Nationality :Indonesia (Shiga University of Medical Science graduate school)


At the guidance sessions, I acquired the necessary knowledge and preparation for moving on to university. Performing mock interviews allowed me to practice the proper procedure for interviews, hear what questions might be asked, and how to answer those questions.
Because of the teacher's support and the school's system, I was able to gain admission to the university I desired.
Ms.GAO RUI/Nationality :China (Kansai University)


I always had an interest in design, but there were so many different schools to choose from. The staff and teachers helped me to look for the best place that would fit me.
They helped me by answering my questions in detail, and I was able to choose a school that was right for me. Now, I am having a great time studying design.
Mr.LEE I CHIN/Nationality :Taiwan (OCA Osaka College of Design and IT)