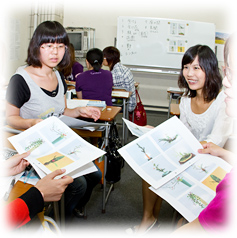 The Dept of Japanese Studies at Kansai College has up to 28 different levels of classes. Your class level will be determined according to the placement tests given during the orientation period. The curriculum at Kansai College is composed of the 4 basic Japanese skills, (reading, writing, comprehension, and speaking).
Students can choose their own curriculum and electives in accordance to their own educational goals.
Furthermore each class has it own homeroom teacher who follows your programs and counsels according to your specific needs and wants.
History of Kansai College
1953

Tennoji Preparatory School, Kansai College's sister school was established.

1967

Tennoji English Academy, the forerunner of Kansai College, was established.

1969

Those two schools were intergraded into the Tennoji Academy Group.

1971

A new campus was built.

1976

Tennoji English Academy was authorized as a vocational college by the government of Osaka prefecture.

1987

The school was renamed to Tennoji Academy of Business and Languages.

1989

Tennoji Academy established the Dept of Japanese Studies for international students in Kansai College and started to accept international students who wants to study Japanese Tennoji Academy established Kansai International High School.

1994

The school was renamed to Kansai College of Business and Languages and International Students Center was established.
President Akira Hayahara was awarded the Medal with a Blue Ribbon by the Emperor of Japan for his activities of training 'World Citizens'.

1996

The Ministry of Education designated the Dept. of Japanese Studies for the School of Highly Advanced Education Research Programs because of producing own text books

1998

Over 200 international students enrolled in the Dept. of Japanese Studies.

2000

New campus was built and over 300 international students enrolled in the Dept. of Japanese Studies.

2001

Original textbook, "Enjoyable Learning Beginner's Japanese Vol.1" and "Enjoyable Learning Advanced Japanese" were published.

2003

Guest teacher program Australia' was entrusted by the government of Osaka prefecture to provide trainings to the Australian teachers for teaching Japanese The Dept. of Japanese Studies was moved to Annex building.