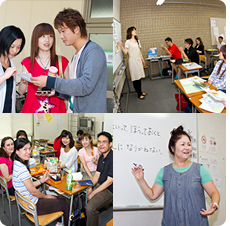 Kansai College of Business and Languages (Kansai College) was established in 1967 as a business vocational school.
Foreign language education in Japan is known to favor especially grammar based development.
However, Kansai College is trying to bring up students who have high levels of practical foreign language ability while sending out many language specialists to all over the world.
In 1989, Kansai College established the Dept. of Japanese Studies focusing on international students and Japanese returnees while at current we boast approximately 400 students studying Japanese at Kansai College from all over the world.
Our specialty college has a mixture of Japanese students and international students. Kansai College consists of not only nurturing language ability, but also cultural exchange opportunities with students from all over the world. You can experience an environment in which enables you to interact with other students of different cultural backgrounds. In other words, it's 'a Mini-international Community'
Our complete educational system